We're thrilled to invite fellow guitarists & vintage enthusiasts to join us on our journey across various social media platforms. From Instagram's visual inspiration to Facebook's vibrant community, YouTube's exclusive content, and Pinterest's rare finds, we've got it all covered. Follow us on Instagram, like our Facebook posts, subscribe to our YouTube channel, and discover all hidden treasures on Pinterest. Together, we'll create a community of (vintage) guitar addicted lovers and vintage guitar aficionados.
Let's stay connected and rock on together!



Start your Bluebird Instagram following today and stay up-do-date with all our latest post so you won't miss a thing. When you own a Bluebird straps, tag us in your posts by using @bluebird.straps and #bluebirdguitarstraps and maybe yours will show up below in our Instagram feed.
[instagram-feed]



For all the passionate guitarists out there, our YouTube channel is your gateway to an in-depth exploration of the timeless stories behind our Bluebird Vintage Guitar Straps. Follow, subscribe, and ring that Notification bell to embark on a journey through our rich heritage of craftsmanship and design. Uncover the artistry and history woven into each strap, and become a part of our storytelling community.



Our Facebook page is your ticket to a vibrant community where the love for guitars and collecting them intertwine with our Bluebird straps. Like and follow our page to join discussions, discover new arrivals, and stay updated on our latest creations. This will help you to find your perfect Match for your Guitar! Let's connect, share, and celebrate the guitar world together. Hit that Like & Follow button now!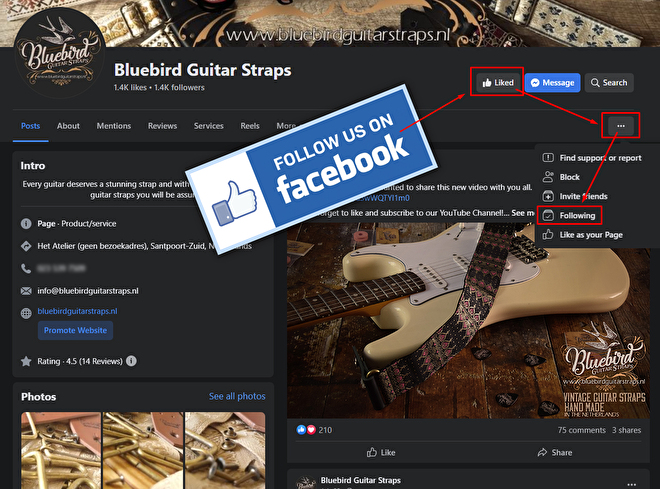 On our Pinterst, we're not the only storytellers. YOU, our incredible buyers, are part of the journey too! Whether you tell your story by sending us a pictures or a video's of your guitar performing with your Bluebird Vintage Strap, We love to share, # tag and mention your experience with our followers.
Follow our complete history & Journey and discover about our new arrivals, plus you'll be updated on our latest creations and finds. Uncover the latest masterpieces and musical treasures. Because every guitar deserves a strap that's as extraordinary as the melodies it creates. Ready to rock with us?
Join us on Pinterest, Hit that 'Follow' button, and let's unveil your hidden gem together!
What's your guitar's unique story?